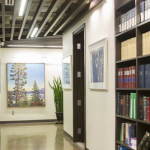 Kirwin LLP has comprehensive experience in all matters of insurance claims including providing coverage opinions, advancing and defending claims, and bringing subrogated claims on behalf of major insurers.
Members of our firm have represented clients in insurance matters before all levels of court, and in tribunals from Small Claims Court to the Alberta Court of Appeal.
Kirwin LLP services many insurance areas, including:
Motor vehicle claims
Liabilities of governments
Construction litigation
Coverage disputes: property, disability and vehicle policies
Actions on disability policies
Actions on life insurance policies.